Happy Friday! This week we have been learning about the economy. An economy is a system of making and trading things of value, including goods and services. Today, you will read about what happened when some bees decided they didn't want to work anymore.
Engage
Follow along to the story, "Please Please the Bees." In this story, the bees in the backyard are tired of doing all the work around the hive and feeling unappreciated.
Can you think of a time that you were tired of doing something and wanted to quit? Did you quit or did you persevere and keep going? The bees decided to go on strike. This means that they no longer were going to work. Why might a person go on strike? What if a person that was making the goods that you needed to run your business, decided to go on strike? Can you think of how this might become a problem?
In baseball, a person can get a strike when they swing the ball and miss. That is a different kind of strike. Words with multiple meanings, or M and M words, are words that sound the same, are spelled the same, but have different meanings. Choose a pair of M and M words from this list. Write the words inside each M and M on this worksheet and use the word, with a different meaning, in two good sentences.
Math
Here is a challenging math problem for you to solve. We read that the bees deliver three jars of honey to Benedict every day. How many jars do the bees deliver in a week? How many jars do the bees deliver in a month? Here's an even bigger challenge. How many jars can the bees deliver in a year? Use this skip counting by 3s song to help.
explore
Bees are important not only for honey, but also for our food supply – one in every three bites of food that we eat depends upon a bee for pollination. In nature, bees have an important job called pollinating. Yesterday, you learned about producers and consumers. Bees would be considered producers because they support the growth of trees, flowers, and other plants, as well as produce honey.
So, what would happen if bees stopped working or producing? Can you imagine what our grocery store shelves would look like without all of the fruits and vegetables that bees pollinate? What would we do without honey? Be the Bee and enjoy this short video about A Hive to Table Experience.
Extend
Be a busy bee today! Buzz around and clean up your room and help with some household chores. Be active outside. If you have one, practice swinging a bat at a ball and try not to miss or strike out. Practice some relaxing Bee Breaths.
Create
Use an empty toilet paper roll and paper or paint to make your own bee.
Did you do today's activities?
Push the button below to let us know you've completed the activities below:
Additional lessons are available for this grade level by pressing "More Lessons" above, or selecting a lesson below: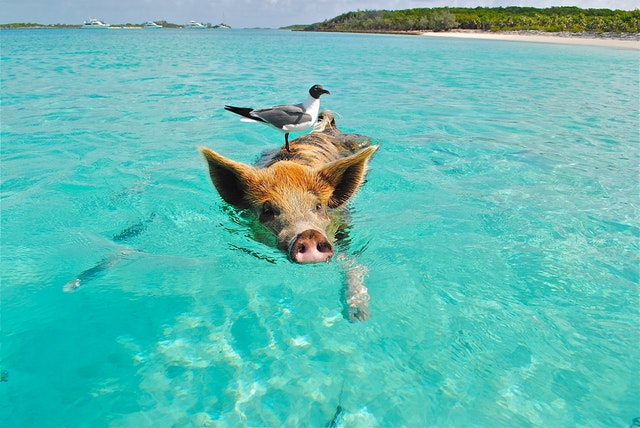 Today's ActivitiesDo you enjoy swimming in a pool? Have you ever seen a cow in a swimming pool? This is a fun story about a very optimistic cow that wants to learn how to swim. Do you think he will be able to do it? Listen to this story, "Sink or Swim". STEM stands...