Today on ELO, we are going to read a story about a Farmer's Market. The Farmer's Markets are opening up in our area. I hope you get a chance to go there.
read it
Before reading or watching, Market Day, tell someone what you know about a farmer's market. Have you ever been to a farmer's market? The illustrator used a unique style of art called folk art in this story. Look closely at the pictures, as you follow along. What did you notice about the illustrations? In what ways did the illustrations help you to understand the story?
Listen to the story a second time. Make a list of rhyming words you hear in the story.
Numbers
Here is a collection of vegetables that one farmer grew for the Farmer's Market. Help the farmer by filling in the table and answering the questions.
Challenge: Draw some of your own vegetables in the collection so that you are working with larger numbers.
Speaking of numbers, practice adding three numbers with this count the dots dice game.
Watch
Do you know what the term local food means? Eating locally basically means buying food that was grown in or near your community. When you buy food from a farmer's market, you can bet most of it comes from a farm nearby. However, a lot of the food we eat is shipped from far away.
Watch this video about the journey of broccoli from the farm to the store. Count how many different people handle that broccoli along its journey. Think back to the story, Market Day. How many people handled or touched the tomatoes on the way to the farmer's market? Can you think of any reasons why some foods could be better for you if they come from a farm nearby?
clues
You have recently learned the difference between a good and service. Two more important words to know are producer and consumer. A producer is someone who makes a good or someone who does a service. A consumer is a person who uses a good or someone who uses a service. Can you tell who is the producer and who is the consumer in this picture? Are there any clues in the picture that can help you?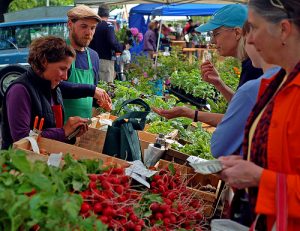 Get outside and pretend you are a farmer. Maybe you do have a garden and animals at your house right now. Are there any flowers or plants that you can water? Can you help pull weeds or rake pine needles? Get some extra exercise today with this rhyme and freeze dance.
create
Watch this short video tutorial to see how to start making flowers.
You can find beautiful fresh flowers for sale at a Farmers Market. Make some of your own today using paint and an empty toilet paper tube. Cut some petals into the top of your toilet paper tube and then spread them out. Dip them into the paint and stamp it onto a piece of construction paper. 
Did you do today's activities?
Push the button below to let us know you've completed the activities below:
Additional lessons are available for this grade level by pressing "More Lessons" above, or selecting a lesson below: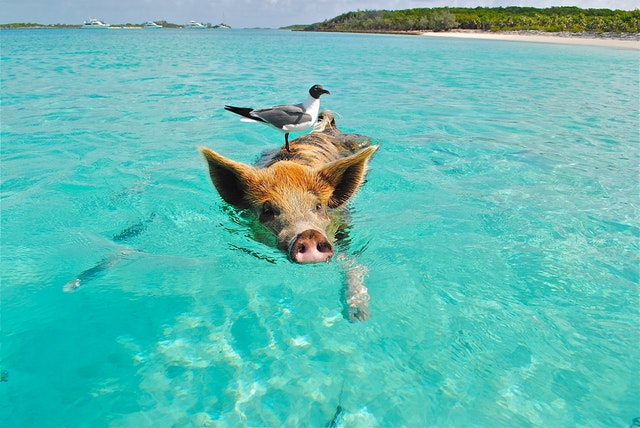 Today's ActivitiesDo you enjoy swimming in a pool? Have you ever seen a cow in a swimming pool? This is a fun story about a very optimistic cow that wants to learn how to swim. Do you think he will be able to do it? Listen to this story, "Sink or Swim". STEM stands...