Listen and watch
Listen and watch "Can you Plant a Bean" and help your child sing along and do the dance moves with the video. Discuss the steps that you go through with your child in planting a bean. Learning Objective: Your child will learn the steps of planting a bean through music and movement.
Paint with Nature
Paint with Nature using fun, natural paintbrushes.  Go for a nature walk and collect leaves, flowers, pinecones, branches, etc. Wrap it all together with a rubber band and explore it!
Explore Nature
Explore the nature around you with a backyard scavenger hunt. Discuss the items as your child finds them, focus on texture, shape, and where it came from. Learning
Objective: Your child will learn where various nature items come from. Your child will gain understanding objects in nature as well as getting some outside movement time.
Compare and Contrast
While on scavenger hunt collect leaves. Then compare and contrast leaves with your child. Focus on size, shape, color, and differences. Then count all the leaves you collected.
Fine Motor Skills
With the leaves that you collected during the scavenger hunt, your child can practice their fine motor skills while shading the leaves.
Did you do today's activities?
Push the button below to let us know you've completed the activities below:
Social Emotional
If you or your child are feeling stressed or upset try this wonderful calming technique. Pretend to hold a flower in your hand now inhale deeply through your nose smelling your flower. Exhale slowly through your mouth. Do this several times. Be creative and ask your child what their flower smells like or what it looks like. Maybe your flower is a dandelion and when you exhale you are blowing the seeds everywhere.
Additional lessons are available for this grade level by pressing "More Lessons" above, or selecting a lesson below: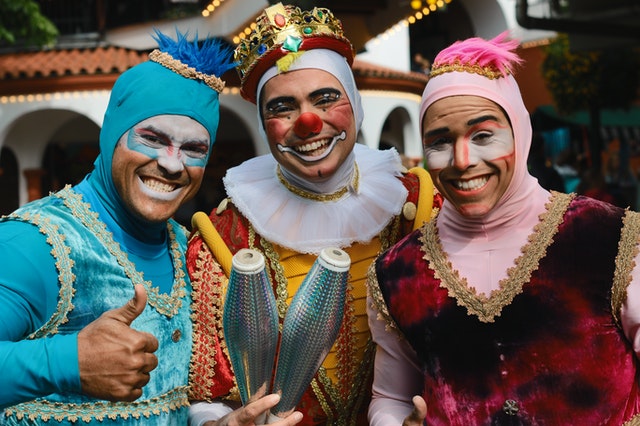 Today's ActivitiesUse this template to create a silly clown face. Check out this fun science experiment using baking soda and vinegar. Your learners will have fun watching the balloon blow up with air. Did you do today's activities? Push the button below to let us...